The 3rd edition of Recycle-a-Bicycle's Youth Bicycle Summit commences one week from today in New York City. This year's summit will again build on the overwhelming success of the preceding two gatherings.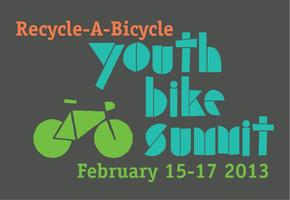 The event is geared toward youth, bicycle education, and advocacy. The summit will be comprised of fifteen engaging workshops, hands-on activities and a thought-provoking visioning session with youth and adults working in communities near and far. By creating a space where ideas from bicyclists of all ages can be heard, the summit seeks to create a more inclusive national dialogue that addresses the issues, rights, and concerns of all bicyclists.
For the 2nd year in a row, Planet Bike is major supporting sponsor of the Youth Bike Summit. Our own Director of Advocacy, Jay Ferm, will be attending and participating in a panel discussion about "bridging the gap in the bicycling universe and bringing [in] more women, minority and other underrepresented groups." He will be sharing Planet Bike's experience in supporting Earn-A-Bike and Community Bike Shop programs and the role of personal exploration of one's own experience with racial discrimination in more effectively engaging communities of color.
There are still openings available!