It's officially mountain bike season around Planet Bike HQ, so last Friday we loaded up the Planet Bike Sprinter Van and pointed it northward to the 24 Hour National Championships. Once again this year, the 24 Hours of 9 Mile was the arena where solo riders and teams met to duke it out for the coveted stars and stripes jerseys. Once again this year, temps were high, and laps were fast. Unlike last year, the rains came before the event, in fact before we got there.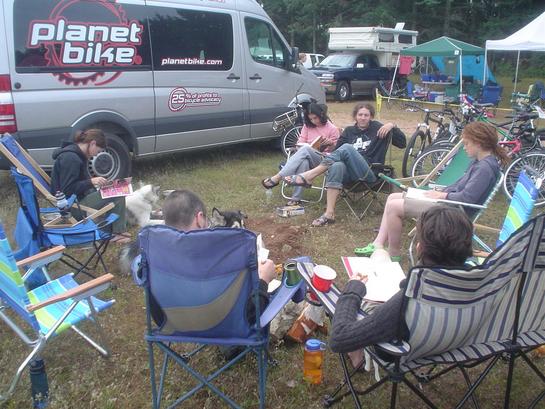 We loaded up the van around 6am and were on the road by 9am Friday morning with full bellies of donuts and coffee. The idea this year was to score a big campsite, make it the Planet Bike compound and have it become the temporary home to seventeen Madison area racers and their support crew of three. By mid afternoon, that goal was accomplished, and it was time to pre-ride the course and stay out of the sun as the other racers trickled in.
Not being official sponsors of the event, we tried to keep a low profile, but by the time we erected three jolly roger flags, three 10×10 EZ-ups, ten tents, and not one, but two disco balls hung, it was hard for anyone to not know where we were. After we rolled out a fleet of bikes, built a campfire, and got all of the coolers in the mess tent, The Disco-Pirate Camp looked less like a "camp" and more like a Forward Operating Base. But hey, we were comfortable.
*As an aside, sure it's hard core to do a 24 hour race out of a pup tent and the trunk of your car, but it's WAY more fun to camp and eat with nineteen of your closest friends in comfort. After some good fireside conversation on Friday, we all turned in relatively late, considering the task ahead.
Saturday morning started slowly for most of us, but we continued the Planet Bike tradition of bacon wrapped donuts and coffee to kick off the day. At 10am, a representative from all four of our teams and all three of our solo riders toed the line for the Le Mans start under beautiful sunny, blue skies, and we were off in a cloud of fat tires and dust. The hot lap of the day was laid down by Madison's very own Marko Lalonde riding for Gary Fisher at about 56 minutes on the 14.5 mile course. My own time was quite a bit off the pace, at about 1:19 after not running hard to my bike, and getting stacked up in each single track section.
Most of the folks in our camp turned lap times that ranged consistently between an hour and 5 to an hour and 15 minutes. The course was twisty, rocky and genuinely fun to hammer thru again and again. It got pretty hot in the middle of the day, so the name of the game, as always was to stay hydrated. I took quite a bit of time off my second lap, even though I was slow and stiff when it started, I warmed up about half way into the loop.
When I finished I rode back to camp, got into some dry clothes, grabbed a bite to eat and headed out to get some good vantage points in the woods to cheer on the other Disco-Pirate campers. I saw Planet Bike/Van Dessel solo-24 rider Lee Unwin who was still smiling and looking good, Djonn from the BKB racing on a two man 12 hour team, still going strong, and my wife Jen who told me her back hurt, but otherwise was having the time of her life.
By dinner time, it was unclear if I?d have time to turn a third lap before our 12 hours were up, so I got ready for either scenario. In the end, our fourth rider Meghan came in just after 10pm, so I went out to ride the last lap in the dark with my old buddy Ron. We flipped on our lights and took off into the woods for a night lap. The moon was bright, and the racers were pretty spread out, so we spent most of the time chasing our own shadows, and stopping at all the aid stations.
Back at the Disco-Pirate camp, our two 24 hours teams and our one solo rider Ben were still going strong. After a night cap at the Trek tent, Djonn and I tended the fire for a while before turning in around 2:30. Not long after that, Planet Bike product manager Erik Olson returned from a lap only to find his team mates still asleep, so he sucked it up and headed out for another lap, rolling back in from lap 5 as the sun was rising, and the bacon was starting to sizzle.
It didn?t take long for the morning sun and some strong coffee to warm us up and bring our camp to its feet. Finally at 10am the race was finished and dozens limped across the line past a gauntlet of fans. After some frosty adult beverages made the 10am rounds (hey, it?s Sunday afternoon somewhere?), we decided to break camp and head south towards home. As we loaded up much more slowly than we unpacked, it was pretty obvious that we were all pretty beat, and the drive home was pretty brutal, but in retrospect, it was tons of fun, and totally worth the lost sleep. Congrats to the 24 hours solo winners Chris Eatough, Monique Pua-Sawicki who turned in mind numbing 20 and 18 lap efforts, respectively, and to the Gary-Fisher/Trek Team who won the men?s event, and the Skirtz-N-Dirt team who topped the podium in the women?s division.
And thanks to all the Disco-Pirate camp racers, to Djonn for the photos and to Amy and Kathryn for keeping us fed and happy. Next year, same place, same time?