Winter is still far from over, but the warm temps for this weekend have us already thinking about spring. Melting snow means lots of cold puddles which can make for a messy ride. But a good set of fenders can make riding through slushy puddles a mostly clean (and dare we say fun) endeavor. In November we released a bunch of new aluminum fenders sets for a variety of wheel sizes. We've been pleased to see brisk sales of these and we wanted to highlight the features and new sizes of our Cascadia ALX fenders.
We added some new fender sizes to the mix so that it's easier to find the right fender for your wheel and tire size. As the popularity of the 27.5 wheel size grows, we now have fenders for those wheels in two widths (50mm and 60mm). Putting slick tires on a mountain bike can make it a great commuter, and we offer 26" fenders in a narrower 50mm width for those conversions. The genre of "gravel bikes" has exploded recently and we now have a 700c fender in a 50mm width that can fit over the beefy tires on those bikes. Our final new size is a 20" set (50mm wide) that can be a great addition to a folding bike or a kids bike. Besides all these new fender sizes, we also offer the Cascadia ALX in our standard 700c narrow/road size (35mm wide fender), 700c medium/hybrid size (45mm fender), 26"/ATB size (60mm fender), and 29" size (65mm fender).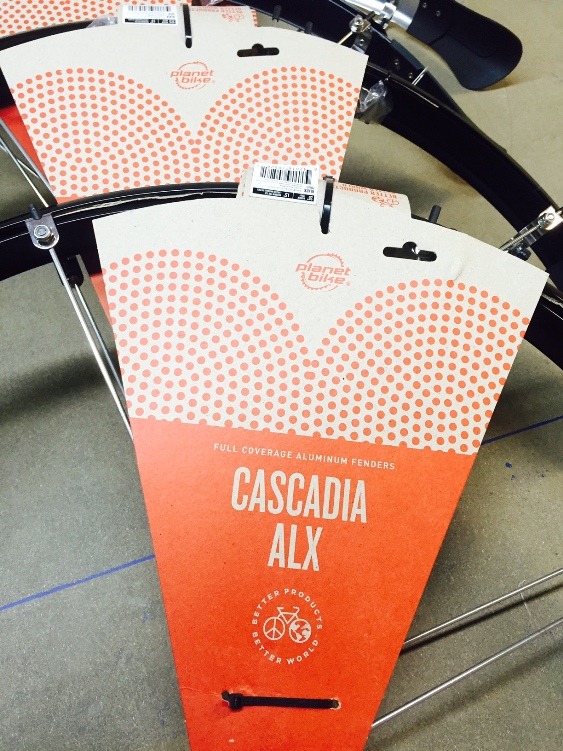 All of our new ALX fenders come with the same preinstalled hardware as our polycarbonate Cascadia fenders making it relatively easy to get them attached to your bike. All of the parts in the hardware pack are stainless steel and they allow you to mount the fenders to the eyelets on bikes with or without disc brakes. For the rear fender attachment to the seat stay bridge, we opt for a metal clip with a rubber shim instead of the plastic clip that comes standard on our polycarbonate fenders. We offer a ton of replacement parts on our website so that you can make sure your fenders are in tip top condition as the years go by. Shipping is always free on replacement parts because we want you to rebuild and reuse whenever possible.
So fender up your bike and aim for those puddles!