So, how's that bike commuter thing going? Well, first of all, everything went wrong! There's a saying that when you are on a path the universe will do everything in its power to keep you on that path, so I was seriously doubting I should be on this bike path.
A series of unfortunate events began about a week after my first ride to work ( check out my first entry here). While I was playing in the back yard with my kid my foot happened upon an old rusty nail. It was a gruesome scene, like from Cinderella, the brothers Grimm version, when the prince takes the glass slipper off the evil stepsister. My skewered loafer did however keep the nail from going through my foot entirely, so I thought of myself as very lucky. Wrong! The next morning my foot was roughly the size of a soccer ball, walking was out of the question and so was riding my bike to work.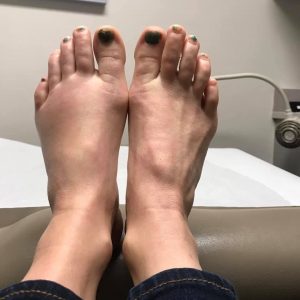 Shortly before Halloween, my foot was back to normal size, I was feeling ready to get back in the saddle. Well, remember what happened shortly before Halloween? Right, winter decided to show up. Y'all I'm from Alabama and I was hoping for at least 2 months before I had to pedal in the snow and subfreezing temperatures! I was not prepared for this and neither was my bike. With easy access to fenders, getting the bike ready for winter weather was the easy part, I just simply had to ask. The install was, let's just say, a learning experience and I was still woefully under prepared for what I was getting into. I had no idea how to dress for winter biking and the early appearance of winter left me no time to budget for buying new gear. I'm on a budget, a tight one, and a quick search for weather ready riding gear was enough to send me into despair that I'd never be able to afford to be a bike rider.
As someone new to bikes, but not new to living with less, I can see how the price tag of shiny new gear can discourage people from attempting to become bike commuters. Simply hanging the bike up as temperatures drop is the easy thing to do. Saying the phrase, "I can't afford it" can feel incredibly vulnerable and embarrassing. I did a lot of research about how to dress for winter riding, I built my wish list in my head, and in the mean-time I went to thrift stores, big box discount store (you know the ones) and said yes to every offer of hand-me-downs that came my way. With a little economic gymnastics, I put together a few options for stay warm and dry, and very very far from being fashionable when riding.
Over the next few weeks I was able to get a few rides to work and around town before the inevitable upheaval of the holidays. In fact, the weather chilled out some, or rather warmed up, so I was getting 1-2 rides a week in. I was starting to feel hopeful I could execute on the winter bike commute! Then school let out, then is was the holidays, then traveling and you know what it's like! By the time New Year's rolled around I was looking forward to going back to work and sliding into some sense of normal life. Which I did fairly well until full on winter started to rear its ugly head again!
Stay tuned for part 2 of my foray into winter bike commuting!