Our fair city of Madison hosted US Cyclocross Nationals over 5 days last week. In the fall of 2010 it was announced that Madison was going to host this prestigious event and I decided right then and there that I had to enter this race. I used to take my cross racing pretty seriously but since having my son last April my priorities have most definitely shifted. But how often can you race a Nationals event when it is only 10 miles from your house?
Had this been average January weather there would have been at least a foot of snow on the ground and temperatures in the teens. We had an unusual stretch of record setting heat for the races, however, and instead of ice and snow we had mud, sun, and 40+ degree temps. Riders from all over the country descended in Madison eager to duke it out for the chance to earn a stars and stripes champion's jersey. The racing began Wednesday with some Singlespeed and non Championship B races and continued through Saturday with age groupers from 10-79 racing. The premiere Elite events were on Sunday and nearly everyone who had raced earlier in the week came back to cheer on their favorite pro riders.
I certainly wasn't the best prepared for my event on Friday with only a handful of races on the season. I also hadn't ridden my bike outside since early November but I wasn't going to let that stop me from participating. My expectations may have been low for my finish, but having fun in the mud was my only real concern!
Racing on your home turf is always fun – I heard folks yelling for me all over the course and despite my burning lungs and the increasingly large amount of mud that was collecting on the bike I pretty much had a permanent smile on my face. There were a few less than graceful crashes in the mud on the first lap and I hit the proverbial wall on the last lap and limped home to finish the race off. Not exactly my finest race but it still felt good just to be out there.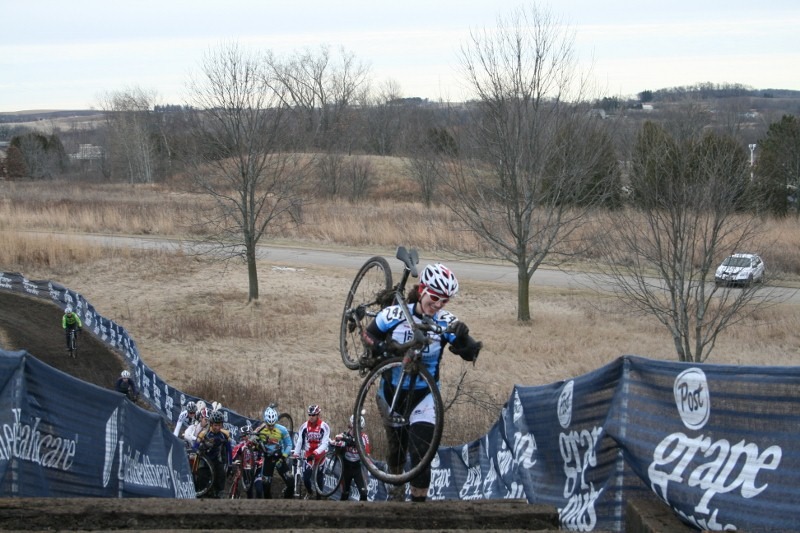 The real fun for me was being a spectator for some of the other races and hearing about the success and race recaps from friends. Lots of success and podiums for Planet Bike Masters riders including Bob Downs (3rd), Diane Ostenso (2nd), Greg Pautsch (2nd), Toni Leal (2nd), and Tim Hacker (4th). In the Elite Men's race Jonathan Page had a fantastic race and took 3rd. It was also great to see some former Planet Bike team members have spectacular races including Katie Compton winning the Elite Women's race, Kaitie Antonneau taking 2nd in the same event and winning the U23 competition, and a win for Linda Sone in her Masters race. What a great weekend of racing! The energy at a Cyclocross event like this is incredible and if you ever get a chance to come out and watch a big race I highly encourage it.
It's all coming back to Madison again next year so if you're looking for some fun next January plan on coming to Wisconsin! I'm already looking forward to racing again!
Thanks to Clint Thayer of Focal Flame photography for the first shot of me and my son with my husband after his race and to Heath for the photo of me racing.