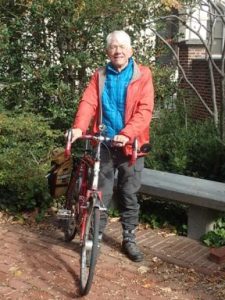 At the confluence of the Delaware and Schuylkill Rivers sits Philadelphia, a city that's quickly making a name as one of the most bike friendly cities in the country. Philly is also home to our fall Super Commuter, Ray Scheinfeld.
The City of Brotherly Love has a developing bike infrastructure that boasts 150 miles of city bike lanes and trails and they continue to add protected bike lanes to the mix. Ray's daily commute spans 12-18 miles each way (depending on his route) as he pedals his way to one of Philadelphia's two airports where he works as the Division of Aviation Planning and Environmental Services Manager. He's resourceful when choosing his route and takes advantage of the regional rail line and public transit when his path crosses the Schuylkill. Bike commuting is a lifestyle for Ray, as evidenced by his 40 years of experience. He even takes a folding bike with him on out of town business trips and vacations.
Ray's passion for bikes cannot be contained. He has mentored countless beginning commuters to help them start and maintain a bike lifestyle. He has been a member of the Bicycle Coalition of Greater Philadelphia for more then 20 years and has served as a co-organizer of the Philadelphia Ride of Silence for the past decade. This silent ride honors cyclists killed or injured in motor vehicle related accidents and raises awareness about the rights of cyclists to ride the roads. Ray is also active in Neighborhood Bike Works which is a nonprofit offering educational, recreational, and career-building opportunities to underserved youth in greater Philadelphia. Last but not least, Ray has implemented bike infrastructure at the two Philadelphia airports where he works.
Ray is quick to point out that there are many other seasoned bike commuters, like him, happy to share their wealth of bike commuting wisdom. He suggests new commuters find a mentor to help them get started. Bike clubs and local bike advocacy groups are filled with riders happy to offer encouragement and input that will keep new commuters on the road for the long haul. "At this point," he says, "I think of most other commuting methods as foreign. If you can do it by bike, why use anything else?"
As a geologist, Ray has long been enthralled with the processes that have shaped the earth. Perhaps that's why he's so mindful about treading lightly on the planet we all call home.