Bicycle commuting is often considered an urban phenomenon, but we realize that not all Super Commuters live in Metropolis and battle car-choked streets to get to work or hit the neighborhood market. That's why we are happy to report that our latest Super Commuter is more of the pastoral variety. That's right, Kent Fackenthall comes to us from the great white northern town of Penniac in New Brunswick, Canada. It's a picturesque little community of just over 15,000 residents Living with four kids in a rural area where winter likes to linger, Kent may miss an occasional day on his bike, but his dedication to commuting through the seasons of New Brunswick is truly inspiring.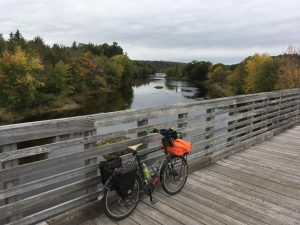 As with many bicycle commuters, Kent rode BMX bikes as a kid and has been mountain biking for years. He didn't catch the commuting bug until 2003 when a job moved him to Washington, D.C. He had left the family car behind with his wife and kids in Canada while he began his new job and searched for a house. Despite D.C.'s solid Metro system, Kent thought to himself that he should try riding his bike around the Nation's capitol. As soon as he started, he recognized how much better he felt, both mentally and physically. And, in his words, "I never looked back." Years passed and Kent and his family eventual returned to the quieter comforts of New Brunswick. The rural landscape only elevated his desire to travel by bike. Getting to town each day is a 15 mile adventure over a mix of paved roads and rural gravel paths that double as snowmobile trails in the winter. Kent's trusty Surly Disc Trucker is fully equipped with a basket, rear panniers and fenders. He also frequently rides into town for the farmers market, coffee with friends and loves to "ride to the ride" for local group rides. When the snows of winter start to fly, Kent switches to his Surly Pugsley. As you can image, commuting on snow pack takes a bit longer than on the road, but Kent "much prefers this quiet and car-free route."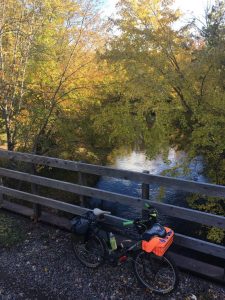 Being a year-a-round Super Commuter in the north country and accumulating roughly 2,800 miles per year doesn't come without some adversity. From December to April, temperatures can routinely drop to -30° C with several feet of snow. Continuing to commute in these conditions requires constant refinement, learning and gear adjustments. Kent admits that the cold and dark of winter sometimes is a big hurdle to overcome. Nevertheless, he perseveres saying that "the hardest part is the ten feet out the door. After that, I never regret it."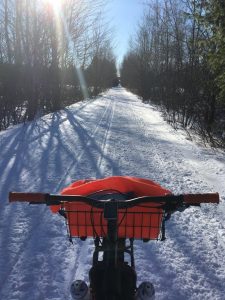 Kent is deeply involved in his local cycling community. He is a certified SprocKidz mountain bike instructor and has worked with his local bike shop on summer mountain bike programs for kids. He is also a longtime supporter of IMBA and Adventure Cycling and has dedicated his time and skills to his local trails organization called River Valley Cycling.
Kent's advice to new bicycle commuters is that "It's an adventure – in the same way rock climbing or hiking or anything else is. You prepare the best you can and go out and see what you get. It should be fun. You can take something boring, like your daily commute, and turn it into an adventure right out of your backyard – everyday."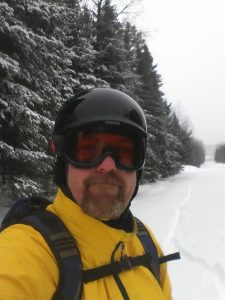 Congratulations Kent! Your dedication to bicycle commuting and your local cycling community is truly inspiring. You are now an official Planet Bike SUPER COMMUTER!