Like the English nanny Mary Poppins, Becky Walkwe also loves children and teaches them valuable life lessons with a magical touch. The two are similar in many ways but diverge when it comes to their preferred means of transportation. Mary has an enchanted parrot umbrella to float between nannying assignments and Becky favors the charmed powers of a bicycle.
Becky grew up in the Olympia, WA area where she learned to ride a bike in the picturesque snowcapped backdrop of Mt. Rainer. On her 10th birthday, her dad took her to the local Sears department store to pick out her first new bike. She remembers that day vividly. Becky recalls, "They only had one bike in my size, it was a returned blue 10-speed. It was not my first choice, but it was my only choice, and I didn't care." That bike expanded the world she could explore, and she was hooked.
Becky has lived all over the Pacific Northwest, but it wasn't until she was living in Portland, OR in 2000 that she discovered how cycling could improve her quality of life. Alternative forms of transit abounded in Portland. She utilized bus commuting, walking and carpools to traverse town for her nanny job. It was a part time job at a preschool that reinvigorated her passion for using the bike. Her commute to the school was only three miles which was, as she explains, "a bit longer of a walk than I had time for, but transit and driving seemed ridiculous for that distance, so I took off on my bike and never looked back." Like no other form of transportation, she found that cycling home from work was a perfect way for her to decompress from all the daily stressors.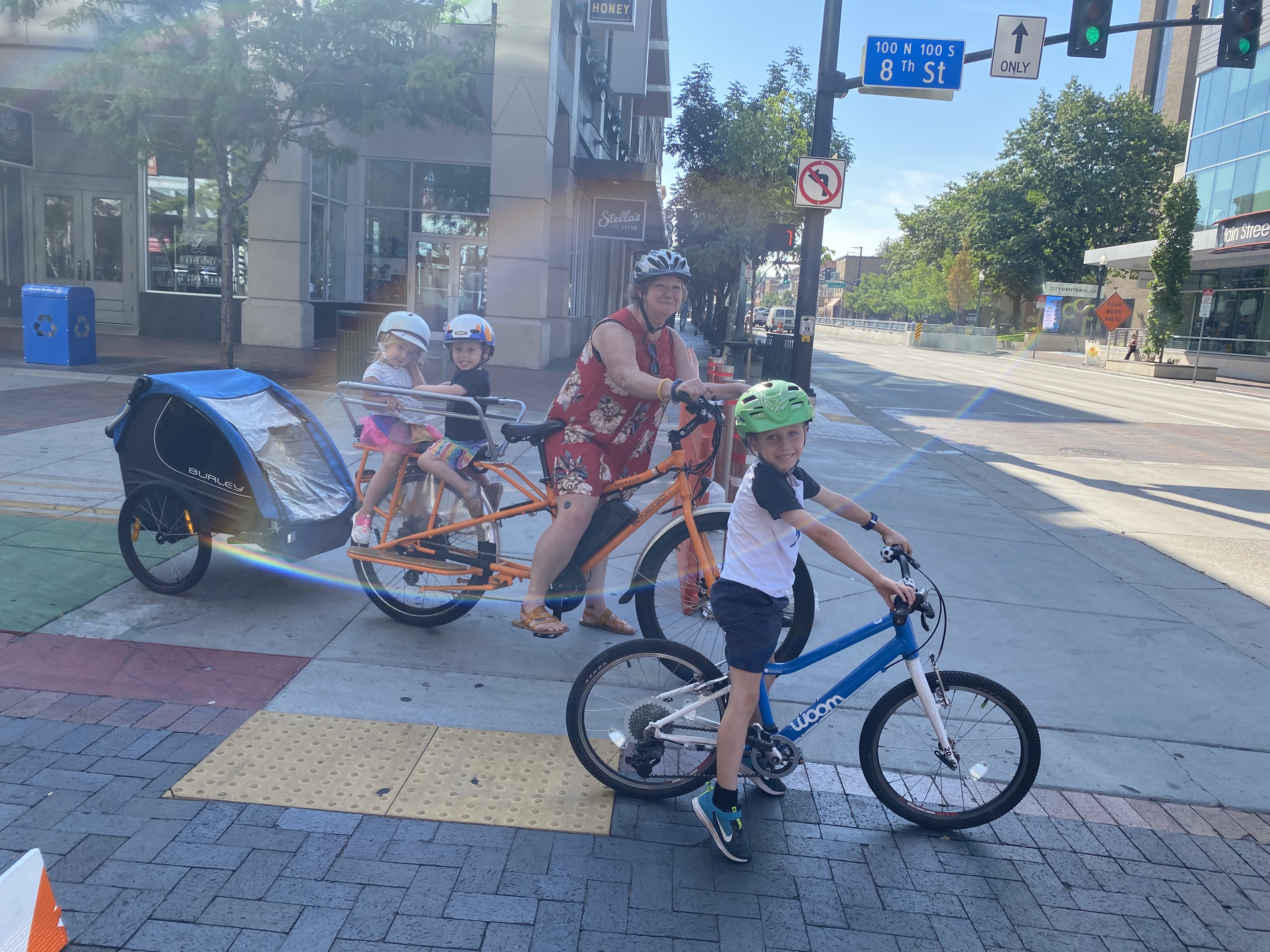 A few years later, she moved to Boise, ID and the limited bus system reinforced that her bike should be her primary mode of transportation. She is now known around Boise as the "Nanny who bikes" and the parents of the children she cares for love that their kids are growing up experiencing daily life on a bike. Being a child caregiver on two wheels takes planning and a great deal of hauling capacity. On most days, she loads up all the items she needs every day, like most commuters. On top of that, she transports up to 4 children and all their necessities like snacks, food, water, jackets, backpacks and some favorite stuffed animals. It's worth the effort because each day on the bike helps both her and the children relax and be better connected with their community and the natural world around them.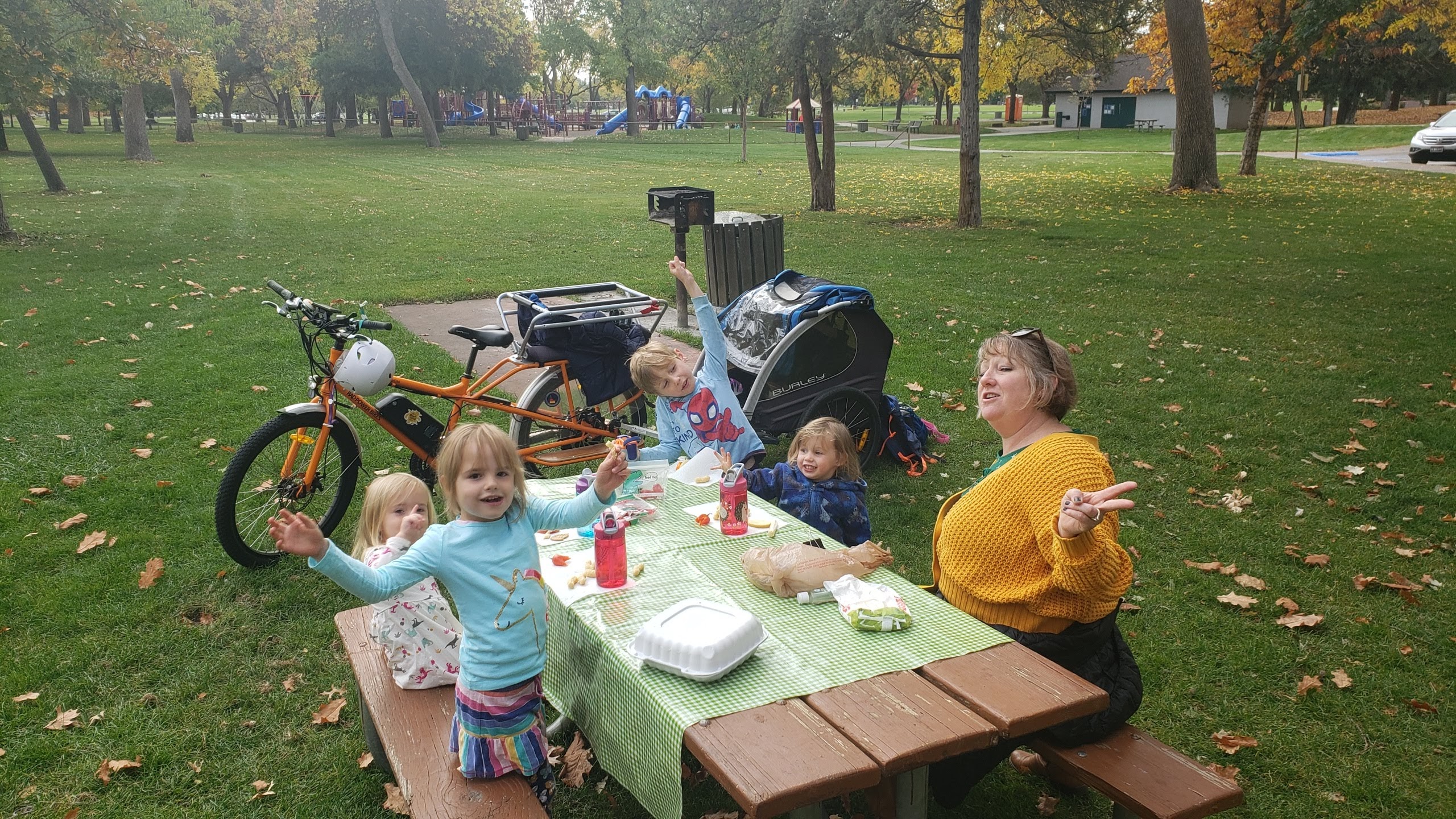 Becky has several different bikes to ensure she has the right ride for whatever the day brings. For solo errands around town, she utilizes the efficiency of a vintage Peugeot road bike. On days when she's pedaling around all of the kids and their stuff, she rides a cargo bike for more hauling capacity. During the mid-summer when temperatures reach a scorching 104 degrees and she needs to take the children places, she pulls from her bicycle quiver her new Rad City 3 ebike with a Burley trailer hooked to the back. When she finds time for pleasure rides, she hops on her Specialized road bike to pedal about and soak up the beautiful Boise blue sky days. In her words, "Two wheels is two wheels" and there is no better way to explore the city on a day-to-day basis than by bicycle.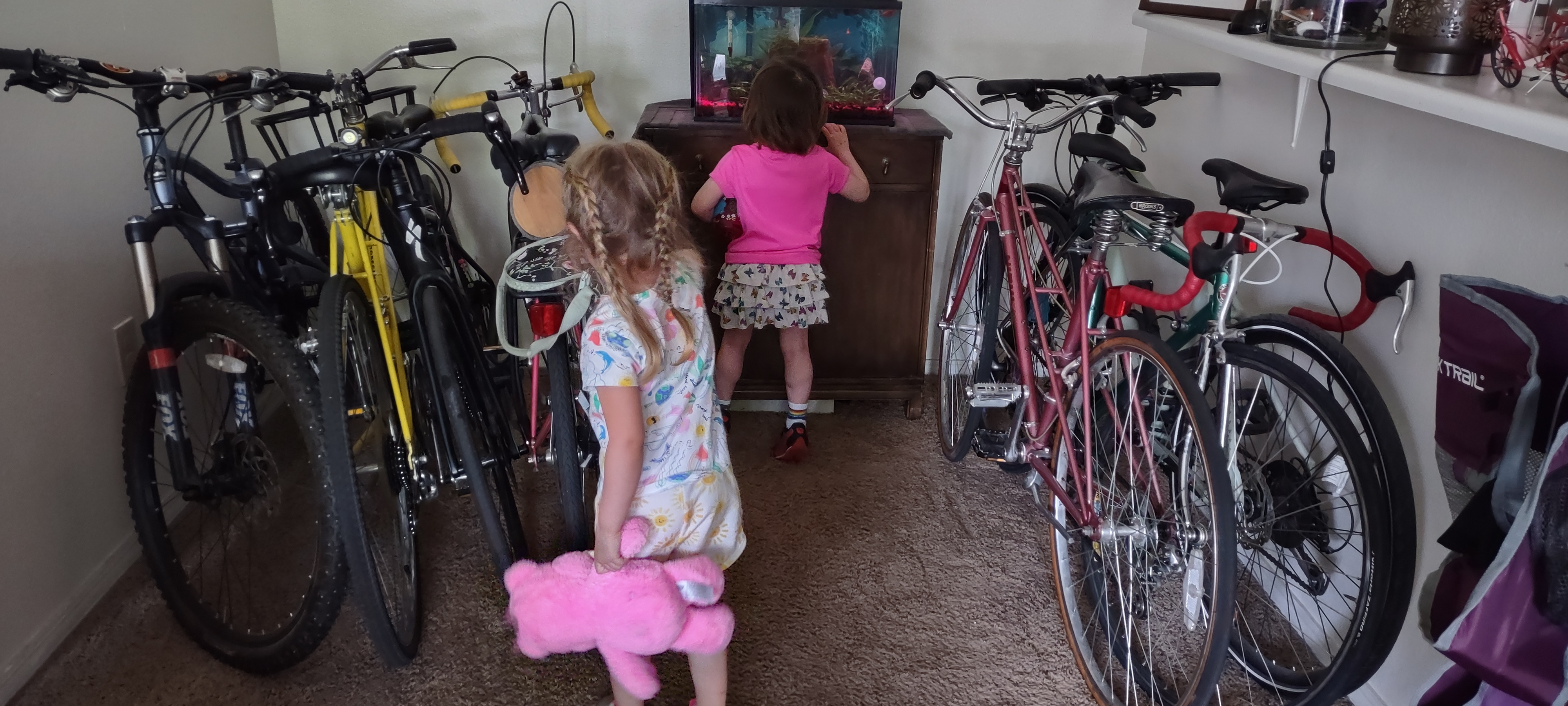 The two biggest challenges that Becky has had to overcome in her cycling journey are gaining the confidence to own her own space on the road and developing the understanding that cyclist are legitimate road users. Early on, other road users would sometimes yell at her, honk their horns or hassle her for taking time to get her bike off the bus rack. Through her involvement in bike advocacy and volunteering, she started to learn how to correctly "take a lane" and "where to ride on the street." She went to presentations at advocacy events and got advice from cyclist in the community. As she puts it, "I started to gain confidence that I belong on the road." In addition, Becky feels that, "This is now my superpower. I have learned that I also have a voice, that everyone has a voice, and we can all use it to be more confident and create safe spaces for all road users."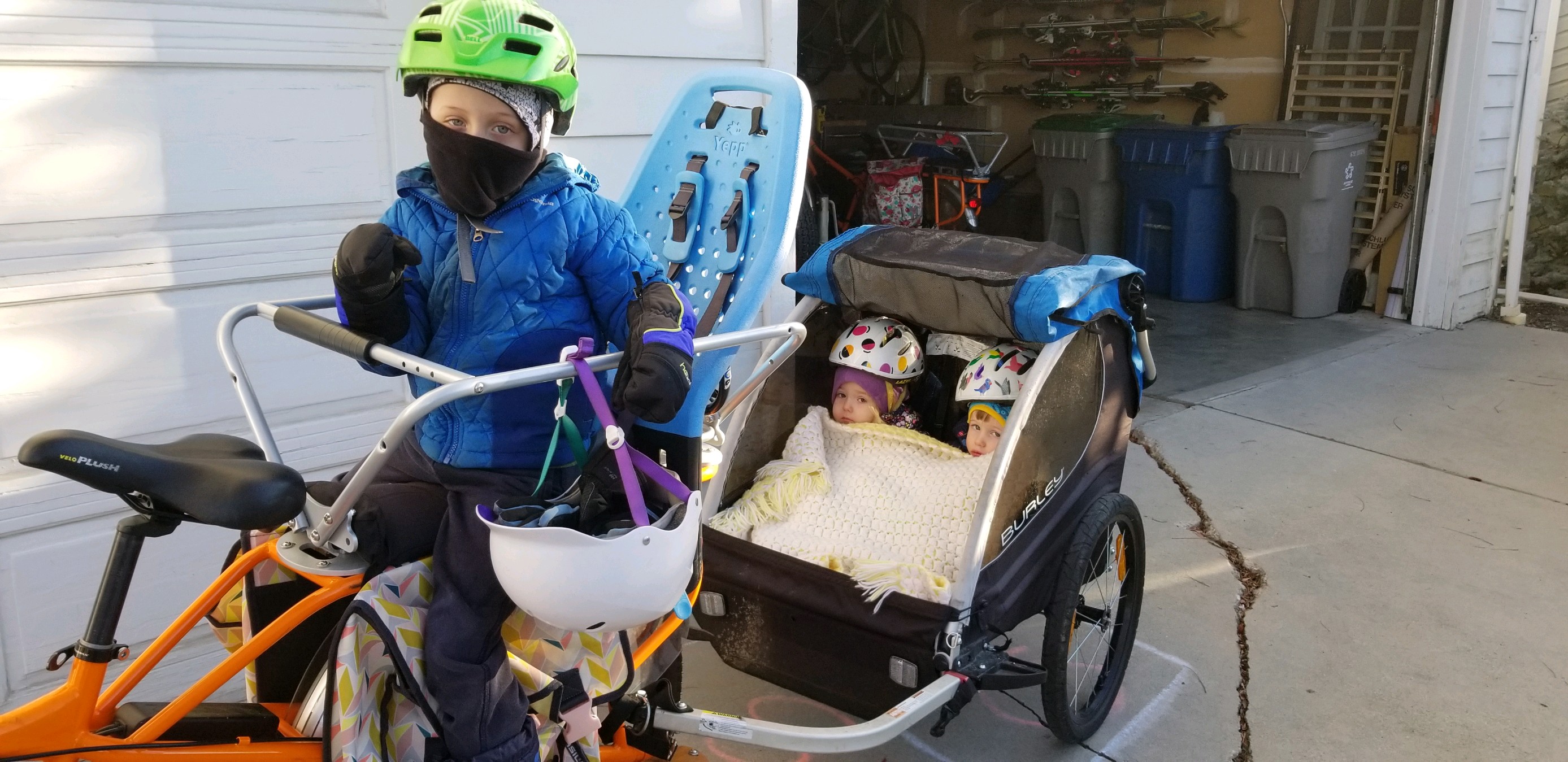 Some Super Commuters rack up huge mileage each year or revel in riding to work in a blizzard. For Becky, her crowning achievements are the moments she gets to teach kids to ride bikes. She sees it as an opportunity to teach important life lessons. Learning new skills is always a challenge and overcoming adversity is an important tool on a child's path to learning. To improve the rate of success, she took a page from a Mary Poppins saying, "Anything can be fun if one improves their spirits." To keep spirits high during the learning process, she has found that the best way to teach kids to ride a bike is on a grassy or soft surface. It reinforces that it is ok to fall and they typically pop right back up with a smile and try again. Nannying the same kids for over 8 years has allowed her to see them grow from enjoying rides in a trailer, to learning to ride and eventually riding all on their own. This past school year, the kids she nannies inspired their classmates to ride their bikes to school. In Becky's words, "Seeing the kids being proud of how they get to and from school and sharing that with other kids made my heart swell."
Cycling has helped Becky in some of the most challenging moments in her life. Soon after moving to Boise, her dad passed away and it was a time of great sadness for her. At the same time, she saw a news article about a December holiday kids bike gave-a-way through the Boise Bicycle Project (BBP), a local non-profit. She immediately picked up the phone and asked how she could be involved. Thanks to that first volunteer opportunity, Becky saw the tremendous joy that bicycles bring to kids. That joy helped her through this painful period in her life. She has since become known as a "glue" volunteer at the BBP and now volunteers one day a week and takes on a variety of tasks which include, organizing volunteers, phone calls to donors and volunteering for special events in her spare time.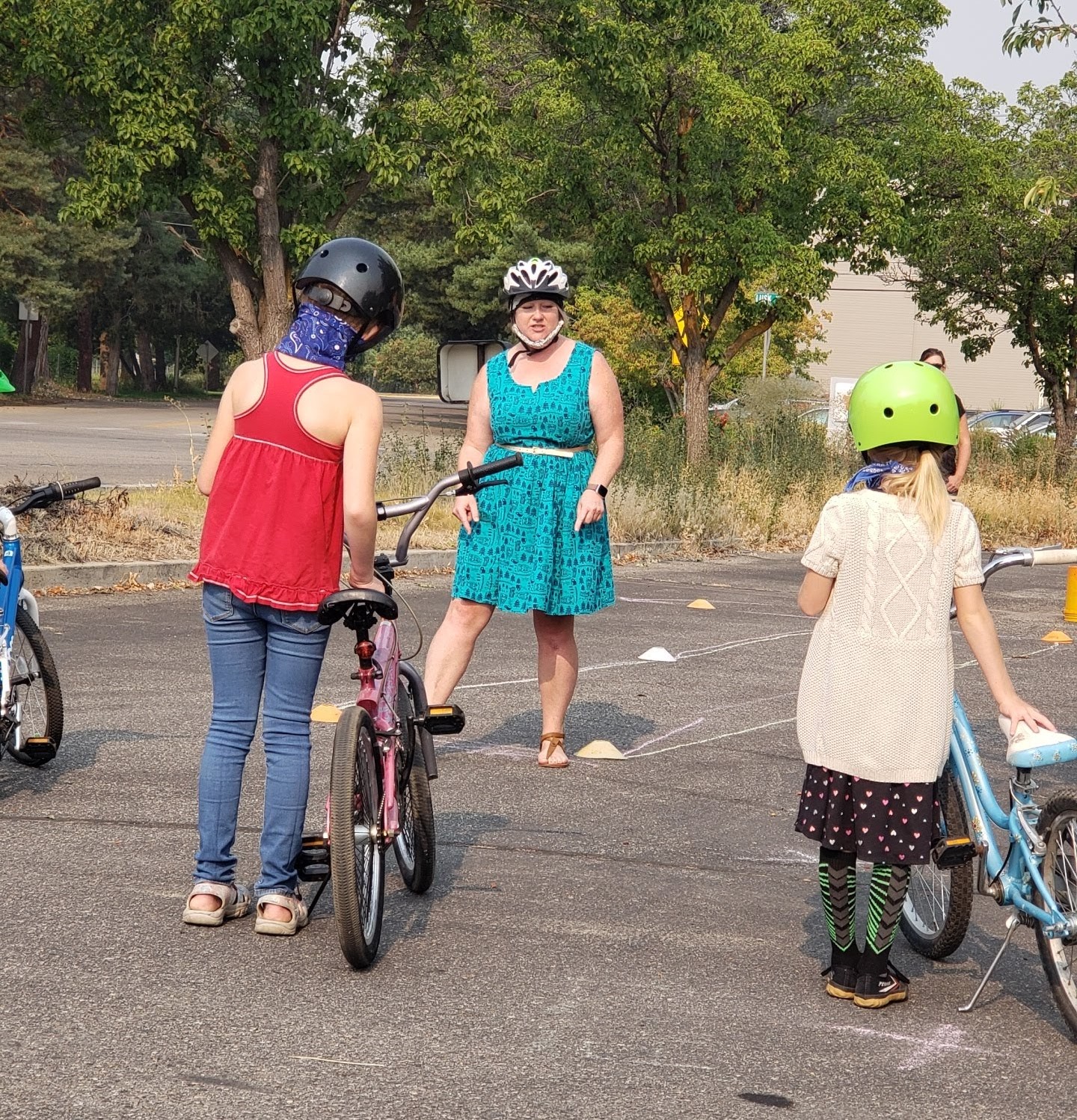 We are inspired by Becky's passion for teaching young children and for being a full-time bike riding nanny. And, it warms our heart that she uses the bicycle as a tool for teaching and spreading the delights of riding a bicycle. We think she is truly supercalifragilisticexpialidocious! Congratulations Becky, you are now an official Planet Bike Super Commuter.