Bicycles have the power to inspire and empower people. Portland Bike Party co-founder Emma Scudder found this out in college when she saw how many people used bikes for transportation. That's when she embraced the independence and joy of bicycling and was inspired to become a daily cyclist and a committed bicycle advocate. Emma's passion for bikes is contagious and her fun monthly rides are encouraging cyclists in her community. We jumped on the opportunity to name Emma Scudder from Portland, Maine as our spring Super Commuter!
Emma grew up in Concord, NH, a small capital city where she could walk to school from kindergarten through high school. After she moved away to college in Boston, she started her life as a bike commuter when she started working at a restaurant a few miles from campus. Her shifts ended so late that the bus service had stopped running. Since she was car-less and didn't feel safe walking, she gave biking a shot. Instantly, Emma was empowered by how she could safely navigate the city. She fell in love with the magic of riding around empty city streets at night. It's a feeling she still loves to this day!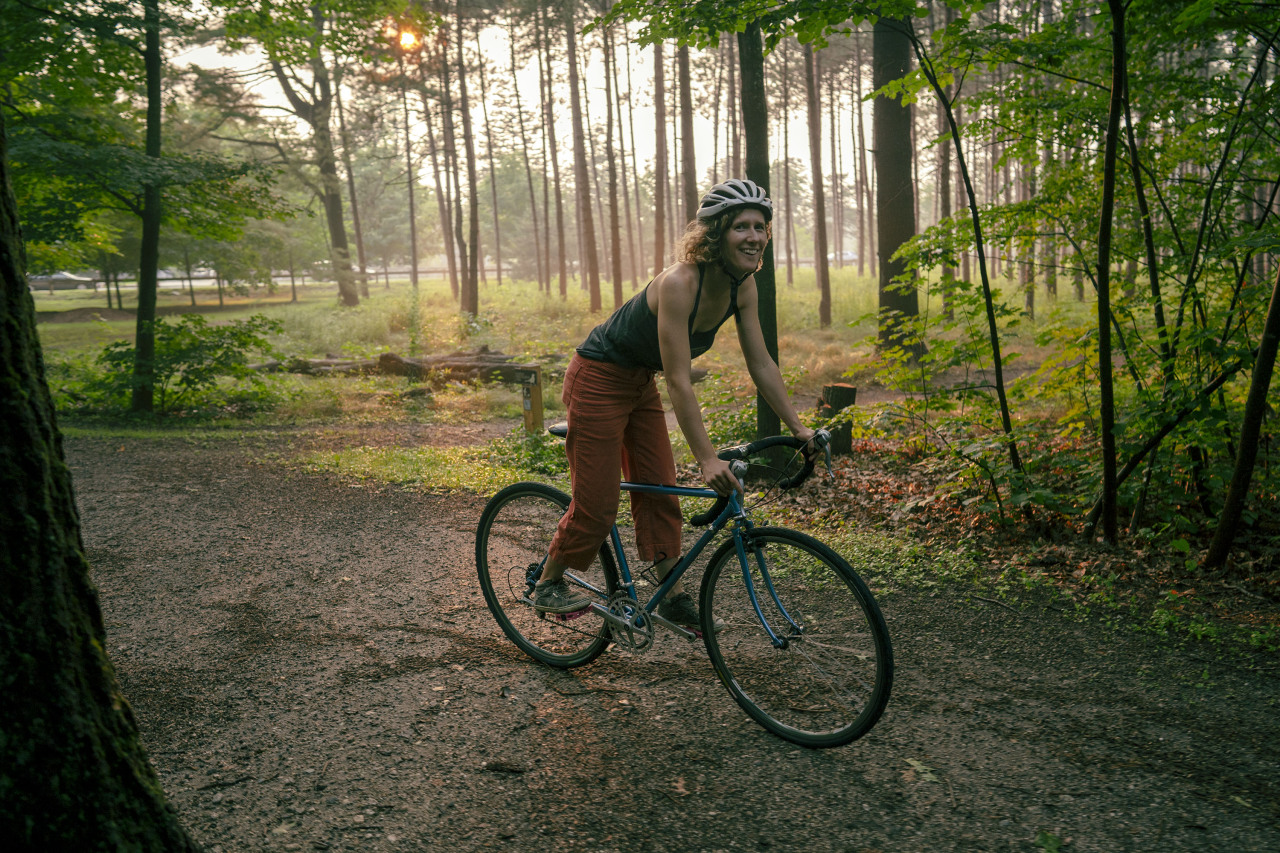 After college Emma continued to utilize her bike as her main mode of transportation. As a garden-based educator, she rode between 10 different gardens throughout Boston. In her mind, "it was the quickest and most fun way to get between gardens - I couldn't believe I was getting paid to bike around!" She then moved to a job farming outside of the city where she conquered the commute by rail one way and biking the 15-mile mostly downhill ride home. On the days she borrowed her partner's car to drive, she "was always miserable and really missing the bike ride."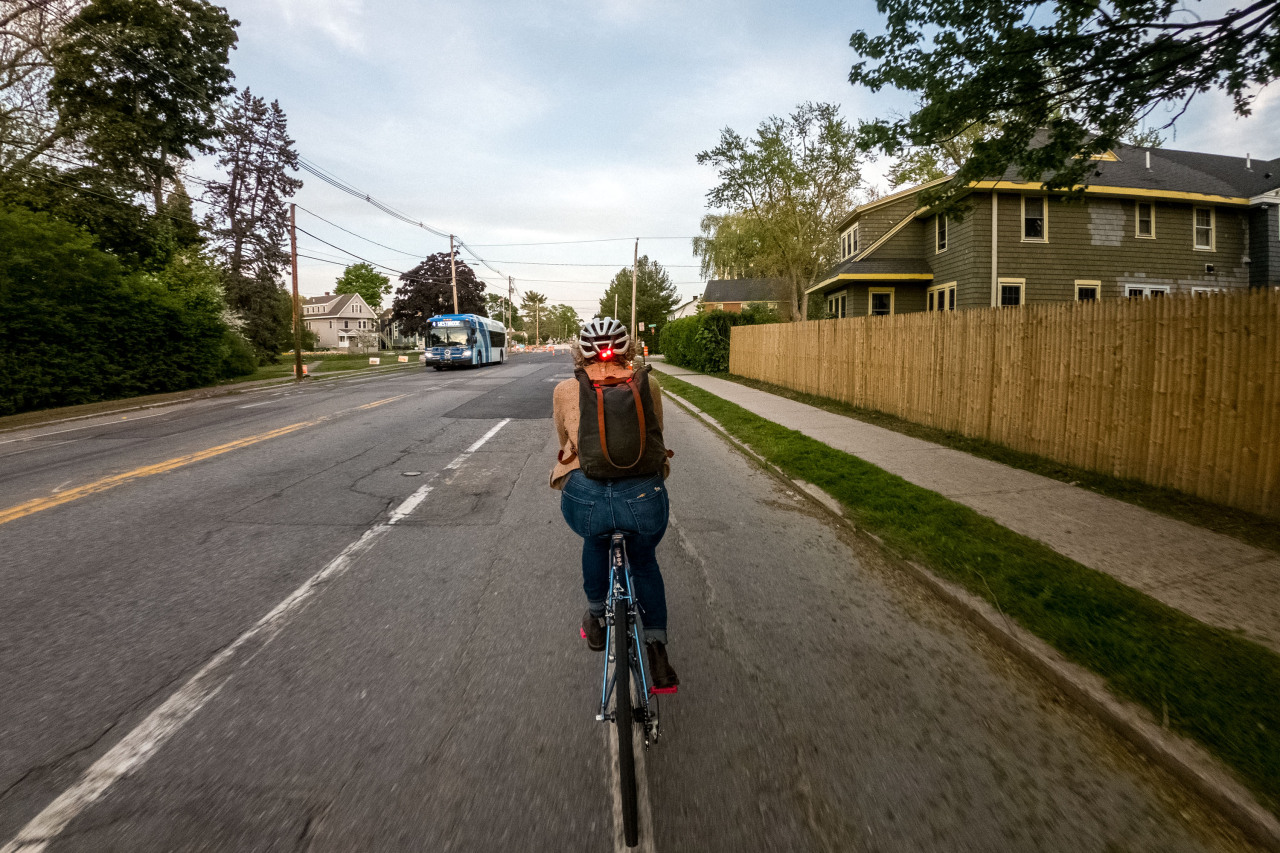 As time passed, Emma began work as a preschool teacher at a Head Start center in Portland, ME. The 3-mile commute was easy and she locked her bike in front of a big window outside of her classroom. Soon, students began noticing each day whether Emma rode in on her red bike or blue bike. They started drawing pictures of her bikes and asking lots of questions to understand why she didn't drive a car to work. They even liked trying on her helmet and laughing at her "silly" bright yellow reflective vest. She recalls, "Four-year-olds are great at noticing things and aren't shy about sharing. It helped me notice what a big role being a bike commuter plays as a part of my identity."
In July of 2021, like many people, Emma joined the ranks of the Covid-induced remote workforce. With the lack of a daily commute for one of the first times in her adult life, Emma found herself running more errands by bike. Her Surly Long-Haul Trucker equipped with Planet Bike lights, has served her well for almost any errand around town. This winter Emma and her husband got into playing pond hockey and found the best way to get there was by bike. Those rides might have been frigidly cold, but Emma also recalls them as some of her favorites of the year.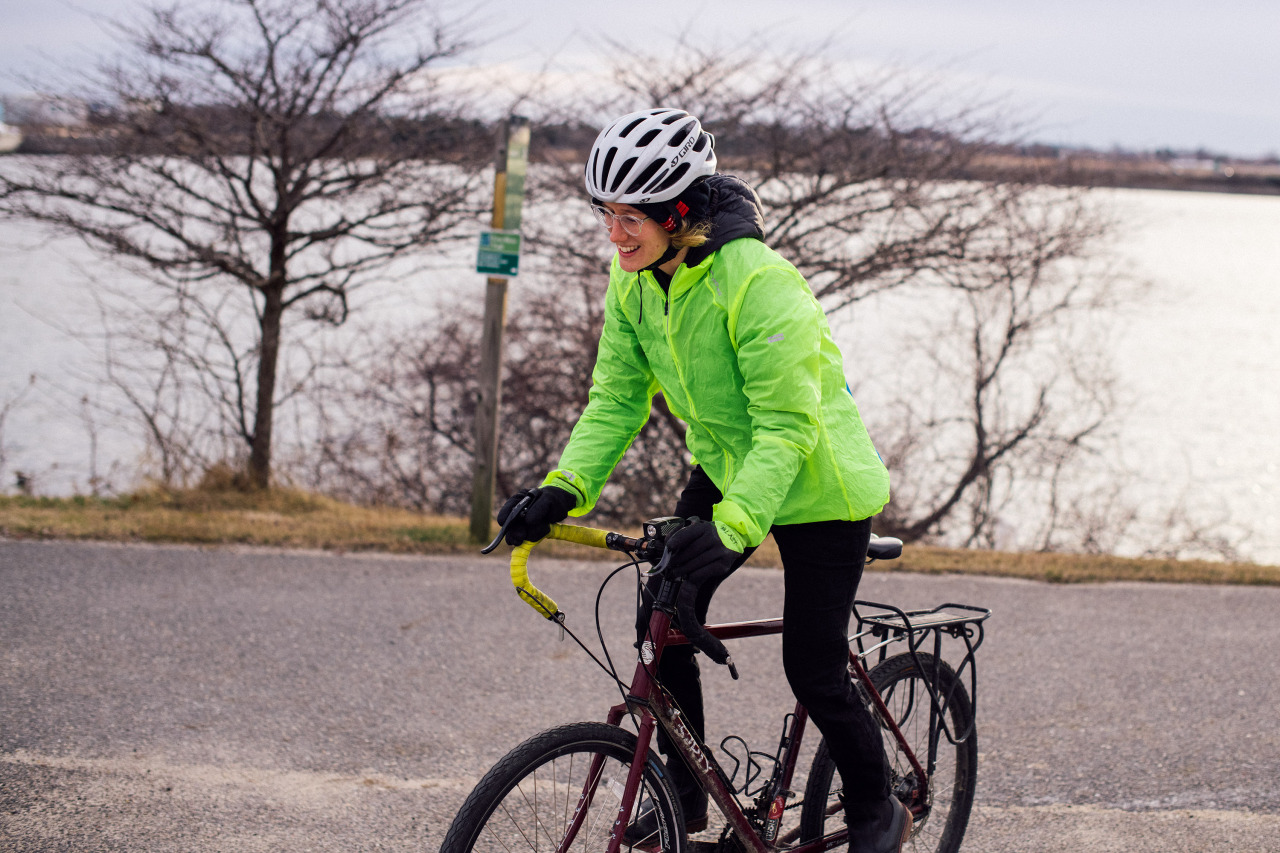 For Scudder, a major hurdle to riding was the confidence to properly fix and maintain her bike. Experiencing a lack of women in the local "bike scene," Emma did not feel comfortable asking for help to learn basic wrenching skills. Through the Portland Gear Hub, Emma met Sara Ramirez, who runs a Gender Equity Outdoors, Be Your Own Bike Mechanic Class. In Emma's words, "Sara made the space feel so non-judgmental and I finally felt confident enough to tinker around with my bike." Her growth as a mechanic who has the confidence to fix her bike when the need arises has been essential to her bike story.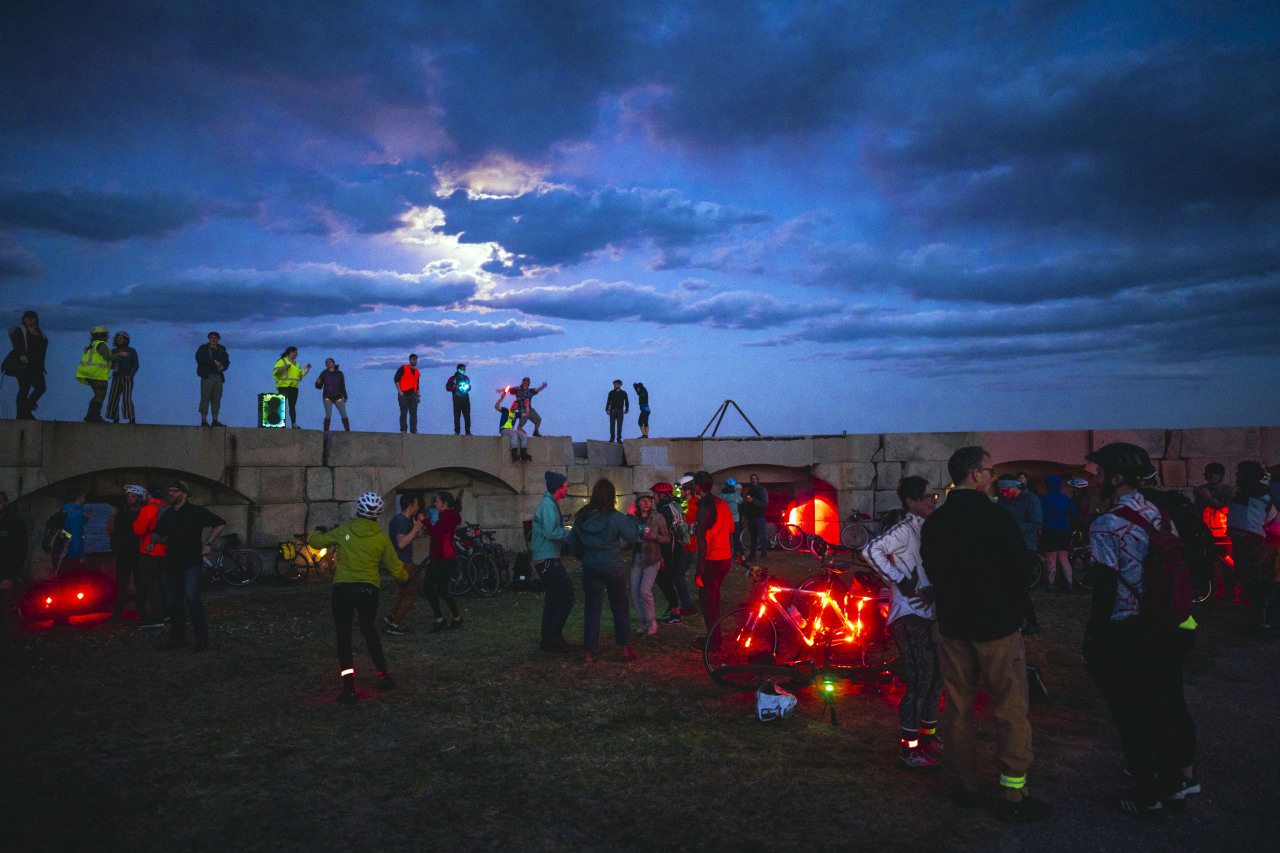 Emma first got involved in bicycle advocacy in college when she helped establish a bike share program called Tufts Bikes. Just last year, Emma started the Portland Bike Party with her husband and two of her cousins. It's a monthly slow rolling bike party complete with music, lights, candy, good cheer, and good folks. In its first year, the ride has grown from 10 to about 100 cyclists for the monthly gatherings through the streets of Portland. Their goal is to normalize bicycling as a fun and effective form of transportation to create safer streets that are more inclusive to all modes of transportation.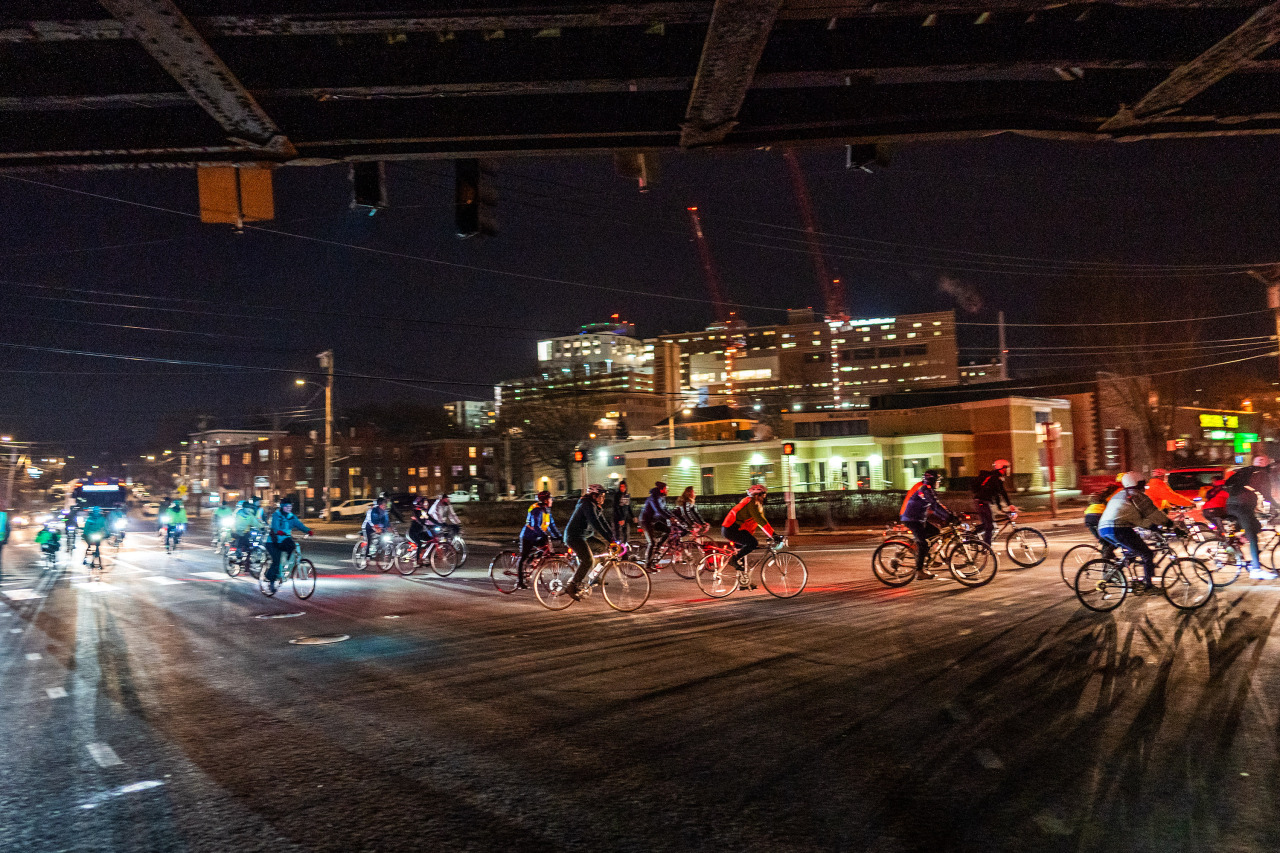 Emma finds herself spending more time outside of work organizing around bike advocacy efforts. Along with some others, Emma helped form the Joy Ride group, a monthly women/trans/femme ride. She is also active in working with the Maine e–Bike Project, which aims to make e-bikes more accessible to all Mainers and serves on the Portland Bike/Ped committee.
When asked to describe her best bike commute, Emma is quick to say that "hands down" her most memorable ride happened on her wedding day. The Portland Bike Party community and her friends and family joined Emma and her husband on an epic parade to their wedding reception. She remembers that "I couldn't stop smiling and laughing the entire time and it was so beautiful to be surrounded by everyone we love on bikes on the way to celebrate our love. I'll never forget it." All big moments in life are better by bike!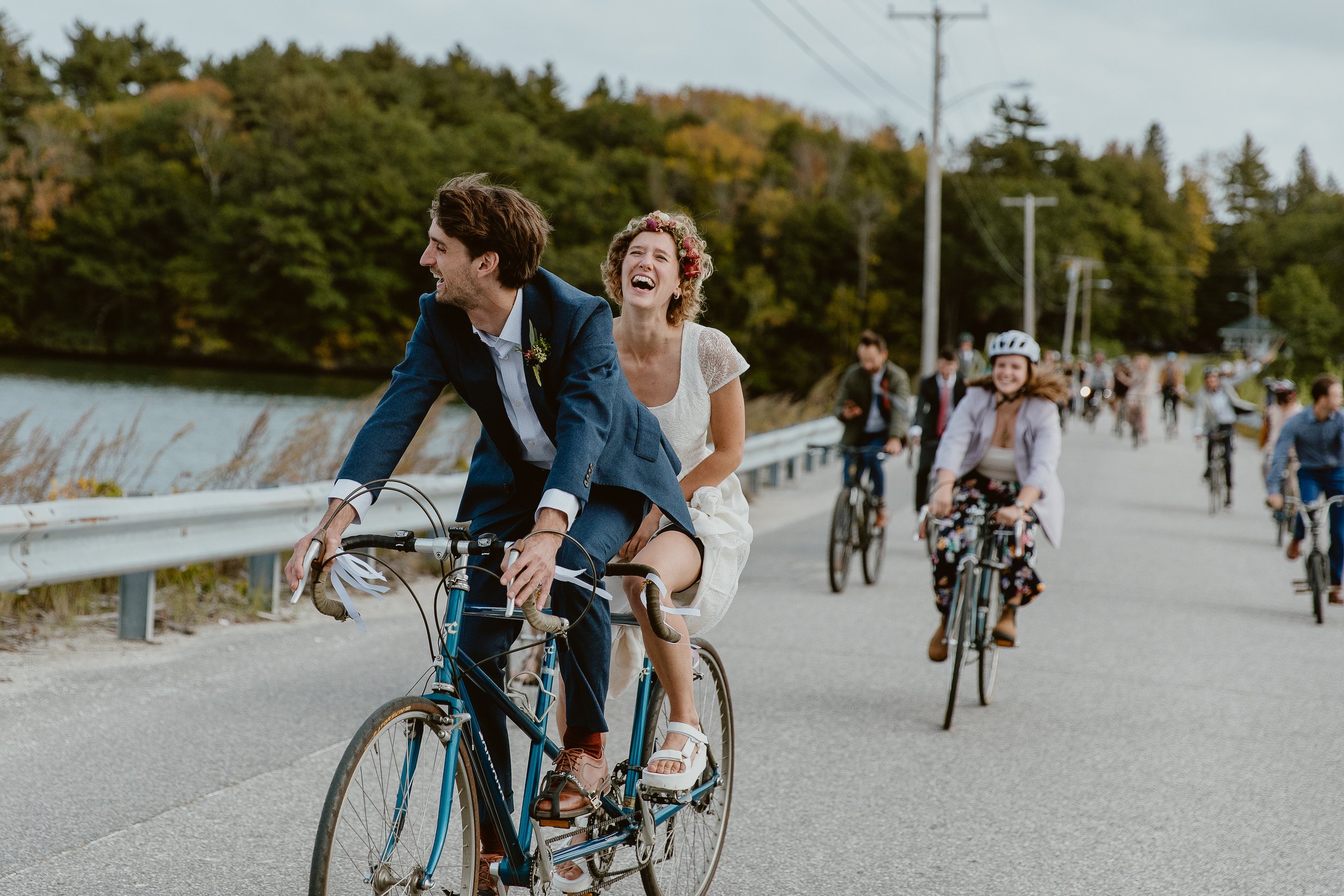 The bicycle plays an integral role in Emma's life. From the magical night time rides commuting home from work, to her life as an advocate for environmental causes, Emma appreciates and embraces the impact that riding can have on everyone. We salute your commitment to the bike, Emma. Congratulations! You are now an official Planet Bike Super Commuter!