A Super Commuter rides through every season, in all types of weather, day and night. Choosing the simplicity, health and pleasure of bicycling, a Super Commuter simply prefers to ride a bike.
Planet Bike has been recognizing Super Commuters from across the country for the past 15 years. Never before have we awarded this distinction to an organization. That is until now. We are very happy to announce that the good folks propelling the Salt Lake City Bicycle Collective are our newest bunch of Super Commuter honorees.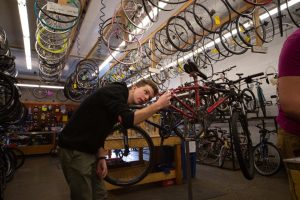 Since 2002, the Bicycle Collective has been promoting the power of the bicycle to effectively and sustainably serve Utahns as a clean, safe and healthy form of transportation and recreation. The Collective runs a wide range of programs that include educational clinics for kids and adults, an earn-a-bike program, a community bike shop that sells refurbished bicycles and a bike valet service for community events. The result is that they are inspiring their larger community to make life better by bike.
The Collective's staff and volunteers' practice what they preach. Individually they rack up the miles on their two wheeled ponies. More importantly, they give their neighbors the tools and knowledge to utilize the bicycle as a reliable form of transportation that can be used to complete daily tasks such as getting to work and going grocery shopping. Since 2012, the Collective has touched the lives of over 40,000 community members and created countless new Super Commuters along the way. My goodness! That is an upward spiral of cycling righteousness.
Congratulations to the SLC Bicycle Collective. Your work is inspiring! As Super Commuter honorees, they will receive a $100 gift certificate for Planet Bike products and a few of the much-coveted Super Commuter t-shirts so they can proudly show that they embody the spirit of the SUPER COMMUTER!
We asked some of the Collective's staff and volunteers to share their best tips for aspiring Super Commuters. Here are some of our favorites:
"Remember, this is supposed to be fun. A wheelie is the best trick you can learn! It's okay to walk up a hill sometimes! Practice using both brakes evenly! You aren't made of sugar, don't be afraid of the rain!"
Ikaika Cox, Director, SLC Bicycle Collective, commutes year-round an est. 15-20k per year.
"Map out a safe route and just go for it."
Robert Simonton, volunteer, 800+ commuting miles to the collective per year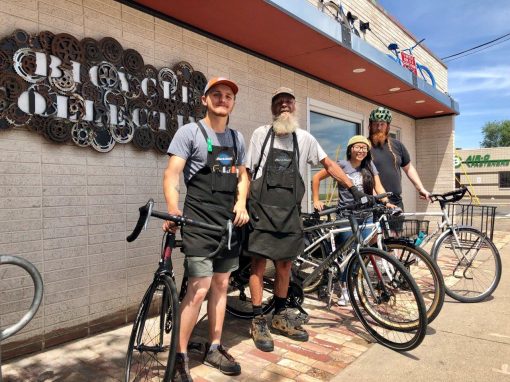 "Get a good backpack, a rear-view mirror (I still need one), and make your tires as puncture-proof as possible."
Cole Taylor, Mechanic, bicycling and public transit is his sole means of transportation
"Bike commuting is about attitude. Once you find a good route it becomes pleasurable and the details (clothing, accessories on the bike such as fenders and lights) will become apparent very quickly."
Louis Melini, Volunteer, 3,000+ commuting miles per year
"Anticipate some emotional and physical resistance to the lifestyle change. Give yourself extra time and start small if you need to. Savor the simple joy of pedaling to keep you motivated!"
Dave Adams, Volunteer, 3,000+ commuting miles per year
If you know a bicycle rider in your life that you think is a Super Commuter, send us an email at info@planetbike.com with a short description of why you feel the person you are nominating is the definition of a Super Commuter. Nominations for our next round will close September 15, 2019.