The approach of Daylight Savings is a sure sign that cooler temperatures and dreary weather are on the way. Madison's Fall is already well under way. The temperature when I hopped on my bike this morning was 41 degrees and there's plenty of rain in the forecast. I've been a year-round bike commuter as long as I can remember. Some days the weather makes it tough, but with the proper preparation you can continue to enjoy your car-free commute. Here's a couple of tips as we head into Fall.
1) Safety
Safety is always my number one priority. With the waning daylight hours, it's always a good idea to have both rear and front lights. Steady and flashing modes are certainly a plus. If you use rechargeable batteries, be sure to check their power often. The bike I commuted on this morning is outfitted with a Superflash tail light and a Blaze Dynamo headlight. I also use an additional Superflash zip-tied to my backpack. An easy way for additional visibility is to incorporate clothing with reflective characteristics.
2) Clothing
Clothing choices can be tricky in the Fall. The temperature variation from the morning hours until the end of the workday tend to fluctuate 15 or more degrees. I'm sure you've heard it before, but the key is to dress in layers. This allows you to shed a layer as you warm up to avoid getting sweaty. In my cycling wardrobe you'll find a common fabric, merino wool. It's lightweight, comfortable, wicks away moisture, and retails a good portion of its warming qualities even when wet. Since I rode my porteur bike today, I wore normal "street" clothes. The porteur is very upright, so I don't worry much about overheating. However, many other days I do an extended commute of about an hour. Here's how I would dress on a 35-40 degree morning from head to toe:
Helmet: Lazer with wind/rain cover
Hat: Merino skull cap from Ibex, cycling cap in my back as backup
Baselayer: Merino short sleeve from Ibex
Jersey: Long sleeve merino wool from Twin Six
Jacket: Thin un-insulated windproof
Vest: Insulated with windproof front
Gloves: Planet Bike Borealis with liners removed
Pants: Bib shorts with insulated legwarmers. If it's windy I will add some windproof, loose-fitting knickers over the top.
Socks: Merino wool
Shoes: MTB shoes
Covers: Planet Bike Blitzen
If I start getting hot I can take off either my vest or jacket. If I really gauged the temperature wrong, I'll swap out my skull cap for the cycling cap (or get rid of the hat all together)
3) The Bike
A smart addition to any commuter bike for the fall is full coverage fenders. If you don't have the proper braze-ons for full fenders, clip on fenders will cut down on rain and debris spray. I typically put on slightly wider tires in anticipation of the random October or early November snow showers (fortunately, Madison has escaped the snow thus far).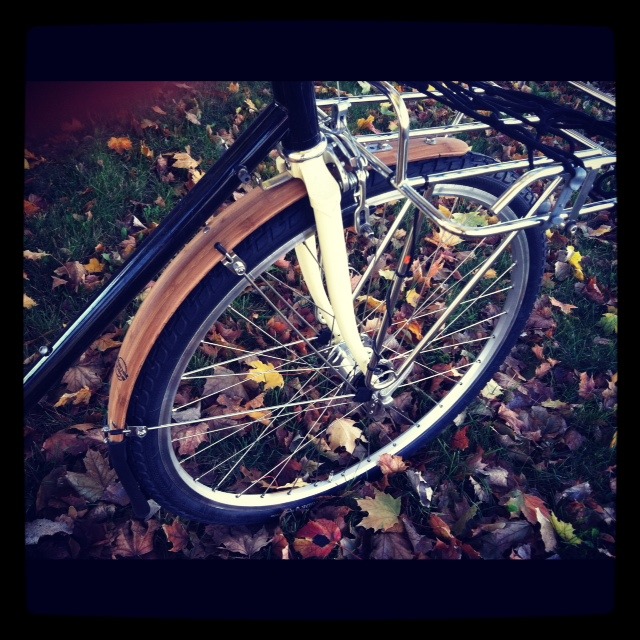 Bike maintenance becomes crucial to an enjoyable commute. Rain and road grit get into any crevice on your bike and dramatically increase wear and tear. Even if you aren't well versed in bike mechanics, make sure to lubricate your chain at least once a week and wipe down your bike just as often. The lubrication of choice around Planet Bike headquarters is T9. When wiping down your bike focus on the drivetrain and braking areas.
The web is full of ideas on how to prepare for fall commuting. Do some experimenting and find out what works for you because there's no better way to start the day then a bike ride on a crisp fall morning!