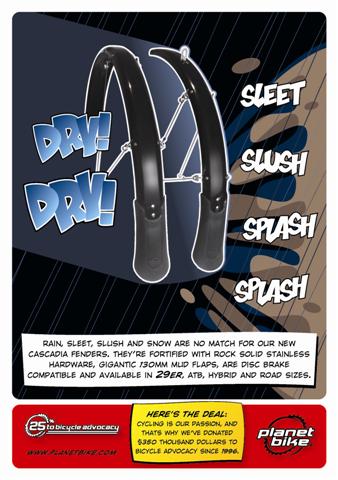 The Cascadia has landed! If you're looking for a full coverage fender with the biggest Mud-Flap in the business, then you're in luck because the whole line of Cascadia Fenders is now in stock. This includes the 29er version, which has been long awaited by the big wheel set. Check out Guitar Ted's recent review at twentynineinches.com.
We also have the Alias HID system, along with brackets and batteries back in stock.
Judging by the sunshine peaking out from behind the clouds today, spring might be on the way, and none too soon after the last few weeks of sub zero temps around the Midwest.
Speaking of the Midwest, we had the wonderful opportunity to visit with a bunch of great shops this past weekend at QBP's Frostbike show. We'd like to thank Q for having us up and feeding us for a couple of days!
We'd also like to say thanks to the folks down at the One-On-One studio for introducing us the some real live Minneapolis bike culture!
Now get out and ride before it gets cold again.