Just in time for spring, we have launched three new lights that will enhance your next bike adventure. The line-up incudes a full range of lights for helping you "be seen" all the way to fully illuminating the road, trail or path ahead of you.
Blaze 1500 Bike Headlight -
This twin beam bike light that is bright! The Dual Blaze® 1500 lumen headlight utilizes two distinct beams of light to maximize lumen output and field of vision when you need to see the trail, path, or road.
Two high output Nichia LEDs are powered by a Samsung 5000mAh lithium battery to deliver a whopping 1500 lumens of trail blazing light. It's engineered with four settings so you can choose the power mode that best suits your cycling needs including the Superflash™ strobe for daytime biking.
The Quick Twist™ bracket makes it simple to mount and securely connects it to handlebars with diameters ranging from 25.4 to 31.8mm. Recharging the batteries is fast and easy with the provided USB-C cable. It's the most current technology available for quick charging between uses. The light is dust and water resistance rated to the IP64 standard.
You'll love the Dual Blaze® 1500 if you're looking for a bike light that offers generous run times and a lot of light. It's the brightest and most versatile light that we've ever made. It makes it easy and safe to come ride with us!
The Dual Blaze® 1500 retails for $99.99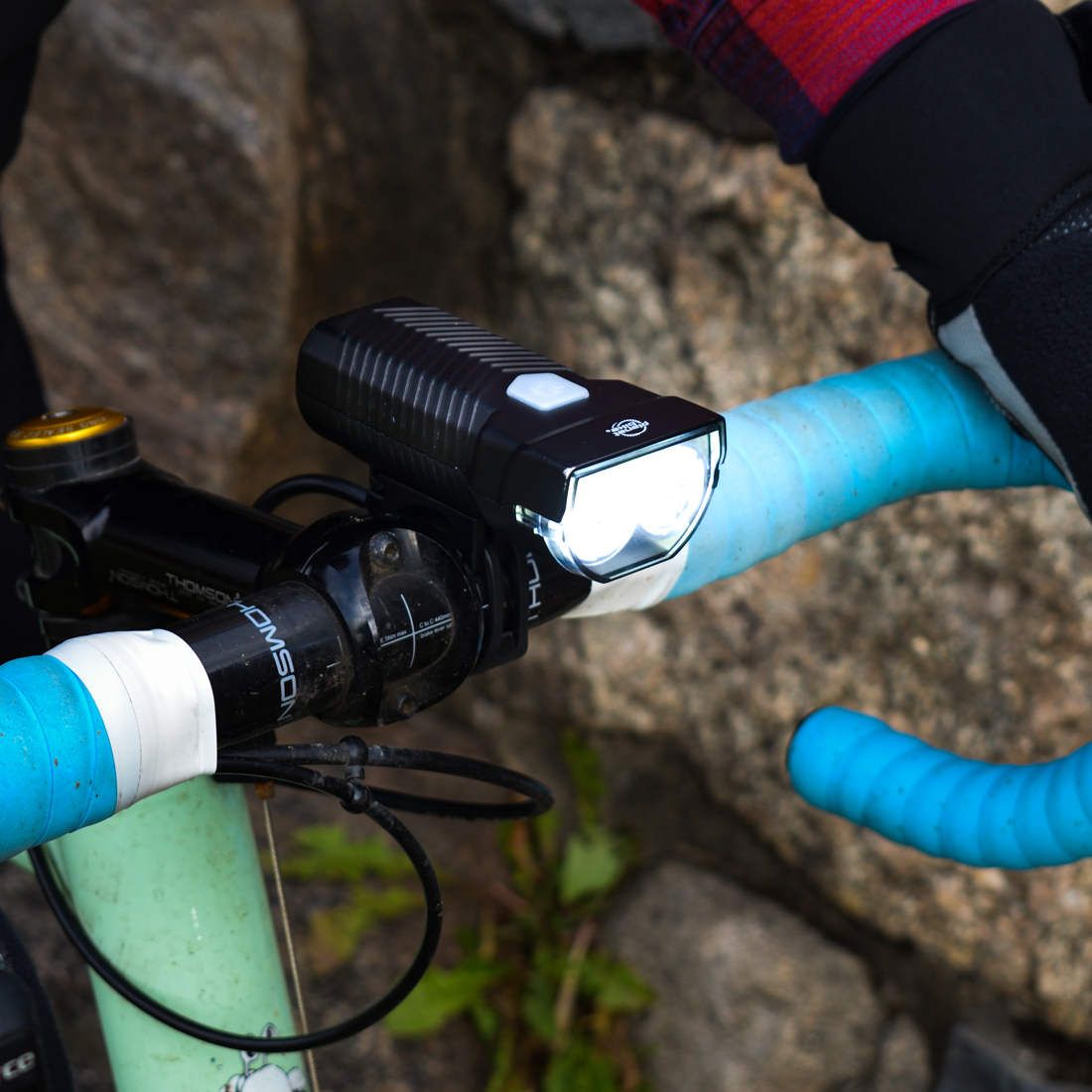 Dual Beamer 120 Bike Headlight -
The new Dual Beamer 120 bike headlight continues the tradition of our long running Beamer head light series. This new twin-beamed version is super reliable and the brightest Beamer yet. Two distinct bulbs can run simultaneously or individually to control lumen output and beam pattern for your unique riding and lighting needs.
Twin high output surface mounted LEDs powered by 2 AAA batteries provide up to 120 lumens of bright light. Built with four distinct light settings including high beam, low beam, Superflash and the path-friendly Courtesy mode lets you choose the best setting to light your way.
The A3 cam bracket mounts and adjust easily on handlebars ranging from 22mm to 31.8mm. The light is rated for water resistance to the IPX4 standard and can safely be used in any weather condition.
The Dual Beamer 120 is a compact and easy to use light that you will rarely have to think about. Ride safe, ride far and be in control of your settings with this super flexible and dependable little light.
The Dual Beamer 120 bike headlight retails for $24.99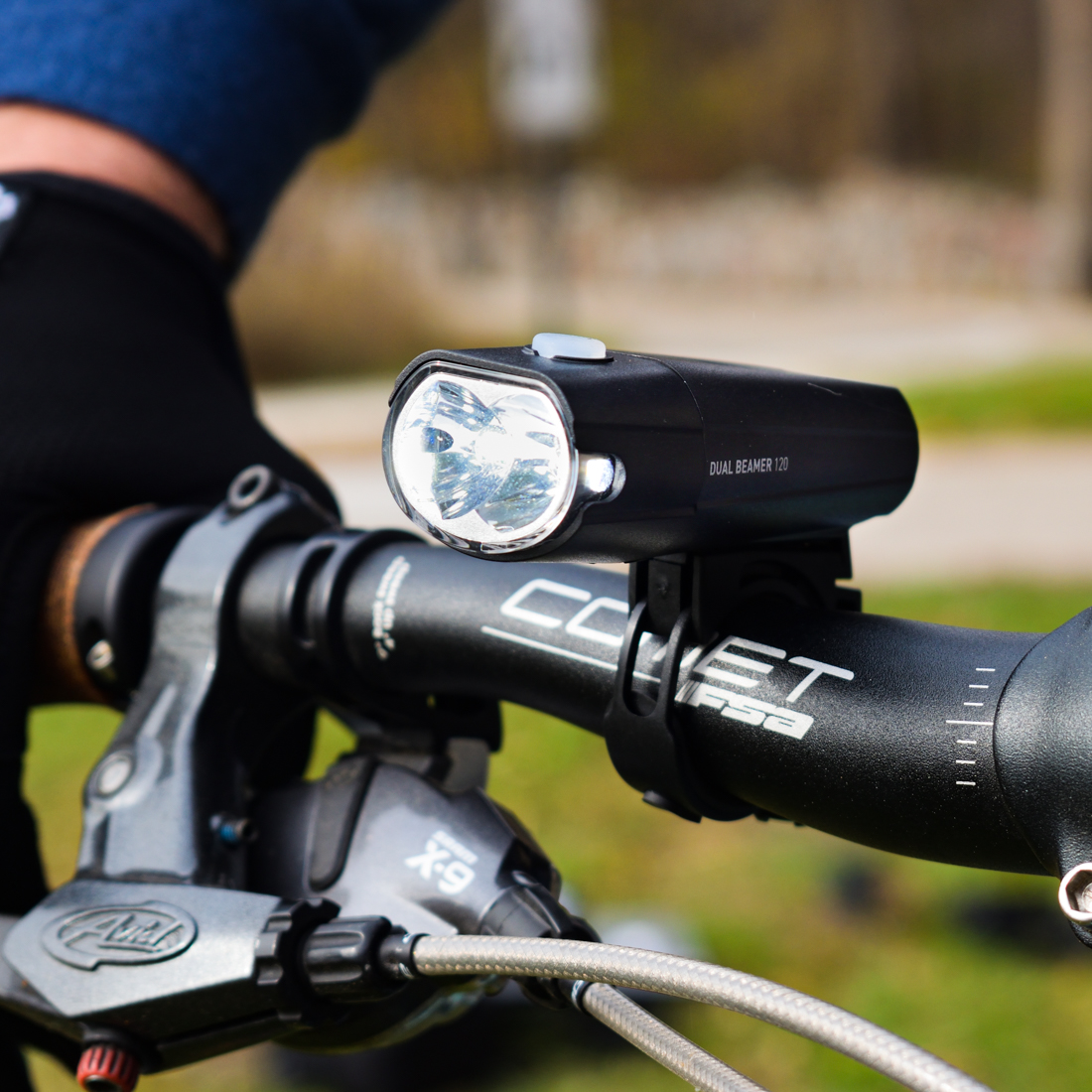 Shiner 70 Tail Light and Light Set -
The Shiner 70 bike tail light is a unique, high visibility rear light makes you more visible to other riders and drivers whether it's day or night.
The tail light features a modern linear design that integrates smoothly to a bicycle's seat post, seat stay or rack. The 7 LED PB Power Array™ delivers 70 lumens of broad beam light and three light modes. The rechargeable 440 mAh lithium polymer battery is fast charging and will keep the Shiner 70 rear light powered up for up to 8 hours. The light is dust and water resistant up to the IP65 standard.
We designed the Shiner 70 to be versatile. The rubberized Quick Strap™ attaches to the seat post, seat stays and helmet in seconds without tools and the bracketing design allows you to position the light on either the vertical or horizontal. A rack mount is also included.
The waterproof design, soft to the touch button and simply mounting, make this the easy go-to light for every type of bike including cargo bikes, Electric bikes, and gravel bikes. You can add the Shiner 70 to the back of your bicycle and let it shine, let it shine, let it shine!
The Shiner 70 is also available in a light set which includes a white front headlight featuring a 10 LED PB Power Array™ light beam that provides 70 lumens of light and up to 12 hours of runtime.
Shiner 70 Bike Tail Light – MSRP: $29.99
Shiner 70 Bike Light Set – MSRP: $49.99